4.9 star rating
4.9
64 Reviews
Love this bag
Review by Rebecca B. on 8 Jun 2020
review stating Love this bag
Love this bag
Awesome Tote
Review by Sheri O. on 30 Apr 2020
review stating Awesome Tote
I love this tote bag as it is the second one that I have gotten. This bag is very roomy and carries everything you need for your WIPS. I have 2 of the 3 colors available and they are beautiful and great!
Samantha M.
5 star rating
Very versatile
Review by Samantha M. on 22 Apr 2020
review stating Very versatile
I use this bag to travel with my projects. It has three large pockets that allows for plenty of storage. The strap is long enough I can wrap it around like a cross body bag. There are many pockets to spare which makes this bag one good crafting bag.
Love it
Review by Zach M. on 14 Apr 2020
review stating Love it
Been look for a bag that that has tons of pockets and that can hold enough yarn and here it is I love it I want to get another may e the purple next
Margueritte L.
5 star rating
Gggg
Review by Margueritte L. on 6 Apr 2020
review stating Gggg
Gggg
Great Projects Bag!
Review by Rusty G. on 3 Mar 2020
review stating Great Projects Bag!
I currently have 2 WiPs in mine, one has 2 large skeins of 4 weight yarn with the small gauge loom, the other has what's left of 1 skein and a full skein of Bulky 5 weight yarn and it's crochet hook.
All 4 skeins and both WiPs fit nicely, and the yarn doesn't get tangled at all.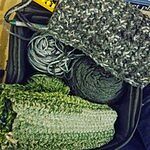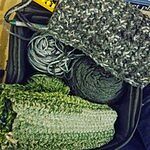 Great tote
Review by Caryn S. on 25 Feb 2020
review stating Great tote
Lots of room for organization and storage. Easy transport for working projects.
So much room!
Review by Joyce S. on 19 Feb 2020
review stating So much room!
I loved my first bag so much that I had to get a second one!i have all my DGY stuff in them. I will take them with me when I go visiting.
Q: I've been a member of yarn if the month for about a year. How do I get out?
A: You may cancel or send us a request via email so we can help you cancel it..
Q: Does the Ultimate Storaage Bag come with anything? Materials, crafting supplies, etc?