4.5 star rating
4.5
6 Reviews
great
Review by Giselle F. on 14 Jun 2020
review stating great
Really useful to have, once you try it you wonder how you ever managed without one.
Works fine
Review by Rachael C. on 29 May 2020
review stating Works fine
Doesn't spin as easy as one with ball bearings. But gets the job done.
Yarn butler
Review by Travis F. on 11 Dec 2019
review stating Yarn butler
The base could be heavier. When the yarn's unrolling, sometimes the strand will slip off the ball and up or down onto the pole itself. With the base being as light as it is, this almost always results in the butler tipping over. This can be mitigated by unrolling a length of yarn at a time, but it kind of defeats the purpose. Off of its axle, the pole does work quite well for making balls.
Great yarn butler
Review by Donna B. on 18 Nov 2019
review stating Great yarn butler
Handy and works!!
Schirean G.
4 star rating
Beautiful craftsmanship
Review by Schirean G. on 26 May 2019
review stating Beautiful craftsmanship
The yarn butler is a beautiful addition to my crafting supplies. Very helpful when working with a skein that is too large for my yarn bowl. Love it!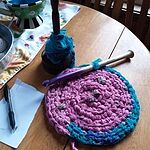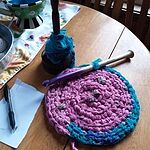 YARN BUTLER, WONDERFUL
Review by Maxine C. on 6 May 2019
review stating YARN BUTLER, WONDERFUL
The yarn butler works very well with larger balls of yarn and odd shaped skeins. Love it!
Comments by Store Owner on Review by Maxine C. on 6 May 2019
Thanks for your feedback. It means so much to us❤️
-Claudia