4.9 star rating
4.9
27 Reviews
Elizabeth B.
5 star rating
No Mystery!!
Review by Elizabeth B. on 22 Apr 2020
review stating No Mystery!!
These scarfs are simply gorgeous. 2 for me, and 3 for gifts to the most specil people in my life. As a woman who grew up in Schenectady, it is an extra treat for me that DGY calls my home region home.
Gorgeous!
Review by Shannon E. on 24 Dec 2019
review stating Gorgeous!
I ordered these for gifts to people who haven't tried DGY. I asked for not bold patterns and minimal bling and they totally followed my color requests. They are gorgeous and I can't wait for Christmas Day to gift them. I'm sure they will be loved!
Silk medley scarf
Review by Martha P. on 3 Dec 2019
review stating Silk medley scarf
I recently ordered 4 of these scarfs. They are all gorgeous.
Hit or Miss!
Review by Kristin on 2 Nov 2019
review stating Hit or Miss!
I ordered 4 that I was planning to use for gifts. I listed color preferences for each of the four scarves in my order... 2 scarves were okay (not strictly my choices, but close enough that I could appreciate the attempt to satisfy my order), and 2 were hideous (not even close to my choices)! I would have returned the lot, except they were on sale with a no return policy. Very disappointed. 🥺
Mystery Sari Silk Medley Scarf
Review by Maureen R. on 29 Sep 2019
review stating Mystery Sari Silk Medley Scarf
Beautiful! And the DGY associate did a wonderful job of choosing the colors I wanted
A unique scarf!
Review by Jessica S. on 15 Aug 2019
review stating A unique scarf!
I think it's fair to say that the odds of finding an identical scarf are so rare that you can say these scarves are truly unique. One of a kind. They're gorgeous, well made, and they will be perfect for me in the winter here in California (where temperatures below 55 warrant a scarf). For the 10 or so freeze days we get, I'll pair my scarf with a solid colored scarf that compliments for extra warmth.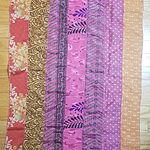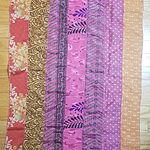 Beautiful scarf
Review by Amber R. on 13 Aug 2019
review stating Beautiful scarf
These are so lovely and unique, I cannot wait to wear them this winter!
Love wearing these
Review by Karen B. on 23 Jul 2019
review stating Love wearing these
The mystery skirts are a fantastic purchase that I can afford and every one I've gotten has been beautiful
Q: Do all the scaeves look the same, if not do we just have to take what you send or is there a way to request certain colors are included in the overall look?
A: Each scarves is one of a kind. Our team will choose different skirts for you based on your order note (color).