4.4 star rating
4.4
24 Reviews
Lynn from Michigan
Review by Lynn T. on 7 Feb 2020
review stating Lynn from Michigan
This is one of my favs! The colors are great and it's really cool to weave with.
Gorgeous and Fun
Review by Ashley M. on 13 Nov 2019
review stating Gorgeous and Fun
I enjoyed working with this yarn. It's sturdy, funky, and the colors work up in a lovely mottled sort of way. I know a purse with it.
Bright colors
Review by Woodward on 13 Sep 2019
review stating Bright colors
This yarn was exactly what I needed to add interest to my craft project. Maybe someday I'll learn to knit but for now I'll just enjoy the yarn in my project. It's so interesting and unusual!
Colors!!
Review by Vickie B. on 10 Jul 2019
review stating Colors!!
The colors and rich and vibrant. The feel of the fiber is wonderful and works up beautifully!
Love this yarn!
Review by Tanya M. on 4 Jul 2019
review stating Love this yarn!
This yarn is so unique and special - I've never worked with something like this before! I finally decided on the perfect project to make sure this yarn really stands out. Will definitely order more!
So pretty
Review by Sarah A. on 26 Jun 2019
review stating So pretty
This is very similar to the banana fiber yarn I love so much. The colors are different than those pictured, but I expected there to be some variation.
Jennifer N.
3 star rating
Beautiful results
Review by Jennifer N. on 22 May 2019
review stating Beautiful results
The balls that I received were more red than blue/green, there were some wood pieces woven into the yarn (which I'm told is common with recycled silk), and the yarn was a little challenging to work with because it kept twisting itself into knots as I was working. With all of that said, it was definitely worth it. I ended up with a beautiful and unique purse that I am proud to show off when I go out.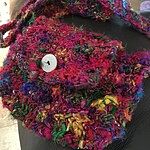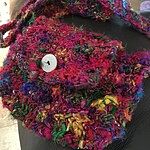 Thickness not consistent
Review by Ariel P. on 15 May 2019
review stating Thickness not consistent
This yarn had great potential. I ordered 3 of these and the first skein was great. The thickness was consistent yarn was pretty much same texture all the way through the ball. When it was time to start a new ball that is when I started having issues. After a couple of rows into my patterns the yarn got as thin as floss. Which wasnt going to work with my pattern because I feared it would tear. I ended up having to cut out a bunch of the yarn just to ensure my pattern would have the similar thickness throughout. I understand this is recycled and you cant guarantee consistency but I would rather the yarn be on the too thick side than as thin as floss.
Comments by Store Owner on Review by Ariel P. on 15 May 2019
Hey there!
I'm very sorry that you had a bad experience with our Recycled Silk Yarn! These cakes of yarn are all hand-made! If you'd like, please contact us at
info@darngoodyarn.com
and we'd be happy to help you!