4.8 star rating
4.8
111 Reviews
Samantha M.
5 star rating
Easy Peasy
Review by Samantha M. on 28 May 2020
review stating Easy Peasy
This is a very easy pattern to follow. The results are superb. The shape of the bag is awesome. I used the crochet version I would say it is a beginner level pattern. Defiantly worth the money.
cute pattern, not such cute results
Review by Sarah R. on 24 May 2020
review stating cute pattern, not such cute results
I was so excited about this project. Whipped it up in a day. Not so excited about the final result. I've been crocheting for a long time, and though the yarn took a little getting used to, the pattern wasn't difficult. But the finished bag has no structure. It doesn't hold its shape. If I set it down on a table, it collapses. If I put anything in it (even as light as a ball of yarn), it stretches. If I actually took it to the market, it might hold two apples. So I'm not really sure what to use it for.

Also, I ordered as a kit, which seemed really expensive to me, but I figured I'd treat myself to something fun during quarantine. Well, it was expeisnve because it contained three skeins of the silk chiffon yarn, yet the project actually used less than one skein. So now I have two more skeins of this pretty yarn and no idea what else to use it for, because it
Great Pattern
Review by Kat R. on 10 Mar 2020
review stating Great Pattern
This pattern was enjoyable and easy to follow. The tote is a great size and seems quite durable.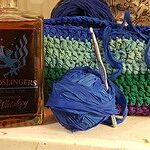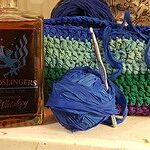 Great pattern
Review by Mary R. on 8 Dec 2019
review stating Great pattern
Fun!
Cute and useful
Review by Susan W. on 28 Nov 2019
review stating Cute and useful
I've received many compliments on my bag and I love shopping fair trade!
Not the pattern for me
Review by Emily G. on 16 Sep 2019
review stating Not the pattern for me
I bought this pattern because everyone else had these lovely bags. However I did not enjoy making mine and I ended up frogging mine. I also found some of the instructions confusing so study the pattern well before starting. It's such a beautiful bag! Wish I had the patience for it.
Kimberly C.
5 star rating
Easy pattern
Review by Kimberly C. on 7 Aug 2019
review stating Easy pattern
The only real difference to the pattern, besides whether it's knit or crocheted, is the direction you start in. The only changes I'm making are seed stitch instead of garter and adding more yarn to make it longer.
Market Tote pattern
Review by Donna W. on 26 Jul 2019
review stating Market Tote pattern
This pattern fuels my creativity and lets me create and use my own bags. No MORE Plastic for this chic. Love this pattern.
Q: Where do I get the chiffon ribbon from, thank you. I really like this.
Q: Having a great deal of trouble with the directions? For instance...on Rnd. 2 it gives directions after the asterisk, then says * repeat 2 times? Does that mean for a total of 3 times? Karen
A: Hi Karen! We apologize for any confusion with the pattern. However, you are correct. It is a total of three times. PS: if you finished your Market Tote, tag us in a picture on social media :)
Q: Are patterns available as an "example pattern" that I can print out after checking out?
A: Hi Lin! The Market Tote Pattern is already free if you want to check it out but as for the other patterns that aren't free, we do not have an example pattern for you to preview.
Q: I'm having an issue with the pattern and two row 6's. I've emailed your company and no response
A: Hi there! I am very sorry to know that you did not receive any respond. Can you send us a chat thru our website or resend your email to
info@darngoodyar.com
? Thanks!