5.0 star rating
5.0
7 Reviews
Cute and Simple
Review by Brenda J. on 13 Jun 2020
review stating Cute and Simple
A cute simple pattern that I will be whipping up this fall.
Review for Darn Good Yarn's Headlands Crochet Scarf Pattern
Review by Crystal B. on 11 Jun 2020
review stating Review for Darn Good Yarn's Headlands Crochet Scarf Pattern
So cute!
Scarf
Review by Kay C. on 3 Mar 2019
review stating Scarf
I have not completed it yet but it's an easy pattern. A wonderful winter gift
Headlands Crochet Scarf
Review by Tracy H. on 23 Feb 2019
review stating Headlands Crochet Scarf
Easy Pattern to follow.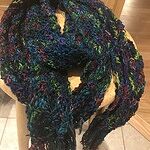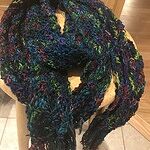 Subscription
Review by Ellen F. on 29 Jan 2019
review stating Subscription
I do far love the yarn I haven't made anything with it, the only I noticed is it does have a smell to it, but I'm trying to put into a baggy and put a fabric softener sheet in with it to see if that helps with the smell, but I cannot wait to make something with all the yarn I get!
Headlands Crotchet Scarf Pattern
Review by Donna D. on 25 Dec 2018
review stating Headlands Crotchet Scarf Pattern
The pattern was easy to follow & the results were a lovely scarf that got many compliments when I showed it to my knitting/crochet group. The scarf will be donated to a group who sends them to our deployed military . Thanks for a wonderful pattern
Purple box of happiness
Review by Michele R. on 14 Oct 2018
review stating Purple box of happiness
I love getting my purple box of happiness each month. Opening it to see what great surprise in each one just makes my day.
Thanks
Michele