4.7 star rating
4.7
72 Reviews
Pretty nice
Review by Corrine W. on 23 Feb 2020
review stating Pretty nice
The the colors are really beautiful but I wish I could have been sewn together a little better and I wish it wasn't so frayed. But it's really nice and relatively easy to work with
At the Bahamas Sari Silk Ribbon
Review by Nancy K. on 12 Oct 2019
review stating At the Bahamas Sari Silk Ribbon
The sari silk ribbon is beautiful. It is going to make lovely baskets.
Somewhat Disappointed
Review by Ann G. on 23 Apr 2019
review stating Somewhat Disappointed
The gold sari pieces were so delicate that several of them tore from just being touched. I had to remove most of them and sew the ends back together. I was barely able to get two necklaces from the hank. I love the results, but not the time it took me to do what was supposed to be a fast project.
Lovely ribbon yarn!
Review by Emily D. on 24 Jan 2019
review stating Lovely ribbon yarn!
I loved the diversity and colors of this ribbon yarn, I used it to create a wall tapestry for my office.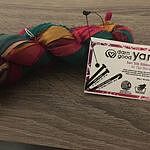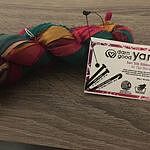 Beautiful Vibrant Color
Review by Barbara H. on 1 Jan 2018
review stating Beautiful Vibrant Color
This is a lovely, tightly twisted skein of ribbon. It's so pretty as it is, I'm almost sorry to unwind it. The thickness looks uniform although I haven't unwrapped the whole thing yet. I would definitely purhase again.
Sari silk ribbon
Review by Iris V. on 29 Aug 2017
review stating Sari silk ribbon
I received two types of silk ribbon, one wide and one narrow. I love working with this ribbon in crafting. This was my first experience using sari silk ribbon and I loved making three necklaces, a pin, luggage tassels, and a lapel pin. Great stuff and beautiful colors!
Comments by Store Owner on Review by Iris V. on 29 Aug 2017
Yaay! Next you will have to try the Tibet Jewels Ribbon. I just made an adorable little mini chandelier with it!
Awesome color & texture!
Review by Maryann N. on 14 Mar 2017
review stating Awesome color & texture!
Just what I was hoping for! Incorporating a textural band within a knitted top. Unique and fun!
Silk ribbon yarn
Review by Lauren M. on 25 Jan 2017
review stating Silk ribbon yarn
I love it! I'm knitting a market bag and the colors and textures make it fun to work with.