4.8 star rating
4.8
13 Reviews
Beautiful fabric!
Review by Itoko K. on 2 May 2020
review stating Beautiful fabric!
They are so beautiful. I plan to create something special.
thumbs up
Review by Joleen D. on 27 Apr 2020
review stating thumbs up
thumbs up
Gorgeous silk squares
Review by Ellie P. on 22 Apr 2020
review stating Gorgeous silk squares
I loved the variety in my pack and used them all to create a quilt. They are so affordable and lovely.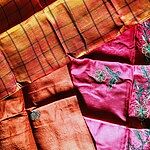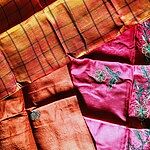 Orange Red Dragon
Review by P P. on 18 Oct 2019
review stating Orange Red Dragon
I ordered the indigo package and was thrilled with the quality and variety, so I ordered the red dragon. I was greatly disappointed. There are only three different fabrics, and two are solid orange (slightly different). The third is a red and orange plaid. Individually the quarters are good quality and nice, but from the description I expected at least a few different fabrics. I overspent for this and since it won't work for the project I'm not sure how to use it.
So much you can do with this!
Review by Dana B. on 24 Jun 2019
review stating So much you can do with this!
LOVE these fat quarters...
Beautiful fabric package
Review by Caitie M. on 4 Jun 2019
review stating Beautiful fabric package
What a fun parcel to receive! The colors are just gorgeous and lovely to work with.
Gorgeous!
Review by Celia O. on 2 Feb 2019
review stating Gorgeous!
These are such beautiful pieces of fabric. The colors are so rich and will be great for patching or color blocks. I can't wait to use them.
Patchwork quilt, here I come!
Review by Lisa M. on 19 Dec 2018
review stating Patchwork quilt, here I come!
I am so impressed with the fabrics that I've received so far, that I am going to collect it up throughout the next few months and make a spectacular patchwork quilt… King size!
Q: The photo of the multipack shows silks that are dirty, stained, and blemished. Is this what I'd expect to see if I placed an order for fat quarters?
A: Hello! Since they are made of recycled Sari materials, they are expected to have small stains but these are still beautiful!
Q: I know the description says 100% silk - but just wondering if they Are all 100% silk or are they a variety or sari materials.
A: Hi there!

It's recycled silk and polyester.
Q: the sample photos show mostly solid color fabrics. Is this typical or should I expect print fabrics also?
A: Hi there!

The majority of our Silk Fat Quarters are solid fabric, but since these are made out of recycled materials there is a small chance for small patterns and details in the fabric! :)