4.5 star rating
4.5
2 Reviews
Asymmetrical Adventure
Review by Heather H. on 28 Apr 2020
review stating Asymmetrical Adventure
Lovely yarn to knit with, a very pretty colour way developing as I knit
Can't wait to get it finished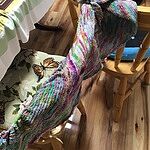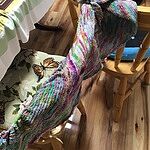 Pure rainbow perfection
Review by Lauren J. on 15 Apr 2020
review stating Pure rainbow perfection
I can not wait to dive into this project. Pattern is written amazing and easy to read and follow. The yarn is one of my favorites ever.
Q: Was this pattern tested - I found a problem starting on row 406 and had to rip back 12 or so rows and finish it correctly. Was very dissapointed and frustrated since I typically suggest to new knitters that I teach to'trust the pattern' but this one lead me totally wrong. Shared with a friend and she too has had problems with Darn Good Yarn patterns. Very say and disappointing!!!
A: Hi there!
Yes, this pattern was tested by our influencers :)
Please email us at
info@darngoodyarn.com
and we'll see if we can help you out!