4.9 star rating
4.9
698 Reviews
Kimberly C.
5 star rating
So useful
Review by Kimberly C. on 17 May 2020
review stating So useful
Can be used for more than yarn.
Wonderful addition to my tools!
Review by Jody D. on 3 Feb 2020
review stating Wonderful addition to my tools!
I thought a yarn bowl a useless luxury. Boy, was I wrong! Like a yarn swift or a ball winder, this was an absolute game changer in my knitting and crochet work. I especially like using them when working with more than 1 ball at a time.
Darn Good Yarn Bowl
Review by Mary C. on 31 Dec 2019
review stating Darn Good Yarn Bowl
It is the small one and it works great. I really like it for small amounts of yarn. I Place the bowl in one of my coasters when I am crocheting, that way nothing falls .When done store everything in the bowl
Great quality
Review by Deborah H. on 30 Nov 2019
review stating Great quality
Love this bowl, my yarn stays clean, doesn't roll away, fits nicely in my DGY yarn bag
Love it! Exactly what you
Review by Tami K. on 22 Nov 2019
review stating Love it! Exactly what you
Love it! Exactly what you see is what you get
Very nice bowl
Review by Janet F. on 12 Nov 2019
review stating Very nice bowl
Pros: Nicely finished and smooth inside and out. I put anti slide pads on the bottom so it wouldn't slip or marr my table top. Large enough to hold a 300 + yard DK weight cake. Got it for a good sale price.
Cons: I wish it were taller( about 2" currently), 3-4" would stabilize a taller skein. Normal price is a lot more than I would have spent for it. I'm not sure why yarn bowl makers all put the slit in, my yarn always get slowed down in there. This model doesn't have a needle hole so I just loop it over the top and turn the slit away from me so it feeds out the other side.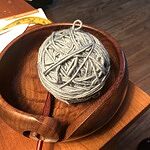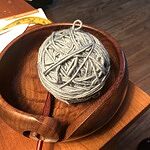 Love it
Review by Sandra M. on 11 Nov 2019
review stating Love it
I have enjoyed it so much I got o e more!!!!! Really well made marvelous wood perfect size!!!!!!
Very useful and well made❣
Review by Nancy B. on 8 Nov 2019
review stating Very useful and well made❣
This simple, beautiful yarn bowl is very helpful in keeping yarn cakes and balls from rolling,sliding off your work surface (table, couch, foot stool, etc...). Very nice usable size, smooth finish, natural wood makes it beautiful! And helps keep your yarn clean by yarn not rolling off onto the floor etc.
Q: Would you give some detail on the flaw on the yarn bowl??
A: Hi Susan! These are bowls that don't quite meet our standard but are definitely useable. Flaws will vary but could be roungh edges, a blemish in the finish, or imperfections in the wood. Being handmade, the "seconds" have potential to be quite lovely if you love irregularities!
Q: How big are these bowls?
A: Hi Katie,

The bowls are approximately 5" in diameter & 2.5" in height. I hope this helped!
Q: Are the products on your web site available in your Schenectady store? I am interested in your yarn bowls seconds. Thanks.
A: Hi Karen! We do offer everything in our Schenectady Warehouse (yarn bowls included!). You can email me at
kate.nitti@darngoodyarn.com
to schedule the best time to stop over :)