4.9 star rating
4.9
18 Reviews
So fancy
Review by Giselle F. on 25 Apr 2020
review stating So fancy
It's the perfect finishing touch for my boho steampunk cosplay.
Cute parasol
Review by Amber R. on 4 Dec 2019
review stating Cute parasol
Very cute and interesting addition to any wardrobe.
Gorgeous umbrella
Review by Jessica S. on 20 Sep 2019
review stating Gorgeous umbrella
This is a gorgeous, beautifully embroidered umbrella! The only reason why I don't give it five stars though is because some of the plastic bits at the end of the umbrella spokes popped off easily, but there's nothing a little E6000 glue can't fix. :) I requested an umbrella with some purple, and Darn Good Yarn delivered on that.
Sunshine protection
Review by Maria B. on 6 Sep 2019
review stating Sunshine protection
Love my new parasol. So colorful and sparkling.
Kathleen S.
5 star rating
Sun cover
Review by Kathleen S. on 5 Sep 2019
review stating Sun cover
Cute-- wish they had a bigger size (I got the 30", which was the largest available).
Perfect sun cover in rainbow colors!!
Review by Julie M. on 4 Sep 2019
review stating Perfect sun cover in rainbow colors!!
I bought the 24 inch as a gift for myself. My intentions were to use it a Jazzfest then hang it on the wall. I've fallen in love with it, using it at beerfests, outdoor music festivals and pride events. I may have to get another just so I can have more colors to coordinate with!
Even my dog loves it!
Review by Alison S. on 26 Aug 2019
review stating Even my dog loves it!
I bought the parasol as a " deal for the week " and put it to use when I had to run some errands in Guilderland. I had decided to walk between the post office, the bank, Price Chopper, and the library. and had arranged to be picked up there. What I did not realize when I made my plans were, that this was to be one of the hottest and most humid days of summer! At 92 degrees, the walk which is not really a long walk seemed unconquerable however armed with the little parasol I did it! I felt a little like a boho Mary Poppins walking on Route 20. But was astounded at how good the parasol was! it really shielded me from the full force of the sun. Even though summer is almost done, it's not too late to buy one. It can cheer up a gloomy corner on winter nights and wait to be put back to use next year.A funky teenager or adult would love it as a gift! The parasol is beautiful functional and fun!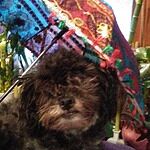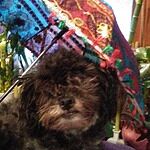 Works perfect!
Review by Sarah A. on 23 Aug 2019
review stating Works perfect!
This was perfect for an outdoor music festival where there was almost no shade. It kept me out of the sun and I got a ton of compliments on it.
Q: how much of a difference in the look are each parasol? I really like the picture of the larger one but if it is too different I won't know if I will like it.
A: Each one is one of a kind. It's not the same as the photo but still it is beautiful and in vibrant colors!