4.8 star rating
4.8
6 Reviews
Kathlene D.
5 star rating
mini skein samples
Review by Kathlene D. on 9 Jun 2020
review stating mini skein samples
great for mini knitting projects
Samantha M.
5 star rating
Good little add on
Review by Samantha M. on 22 Apr 2020
review stating Good little add on
These are a good little add on to many projects. They can sewn or glued on to almost anything.
Nice thread, okay colors
Review by Dawn D. on 3 Jan 2020
review stating Nice thread, okay colors
The thread is nice. I thought the strands would be a bit longer though. There are several strands in the bow. The colors are okay. I was thinking I would receive some of the prettier colors in the photo, like the pinks, but there were none. It was really the only reason I purchased it. I got what looks like fall colors, like you had surplus of thread that you couldn't sell and gave the impression it was better than it was and offered a deal, that wasn't terrible (it's the only reason I'm giving 4 stars instead of 2 or 3), so people would buy it. Anyways, more about the thread, it's thicker than sewing thread, which is what I was hoping for. I'm using it for miniature crochet projects. It's not scratchy for being wool. The colors I got were light and dark khaki, white, Jade, light green, orange (kind of a burnt orange), a pretty teal, and royal blue, and a kind of gold one. Not terrible, I can probably use most of them, still think the advertising wasn't very fair though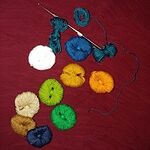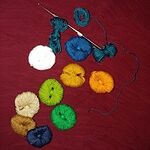 Pretty
Review by Linda70 on 3 Dec 2019
review stating Pretty
Can't wait to try it.
Christine B.
5 star rating
Lovely
Review by Christine B. on 17 Nov 2019
review stating Lovely
These are perfect for me to add to my wool when spinning,soft great colors.
Nice groups of colors.
Review by Roxanne L. on 14 Nov 2019
review stating Nice groups of colors.
Nice groups of colors.