Carol F.
Verified Buyer
A Verified Buyer is a user who has purchased the reviewed product through our store.
5 star rating
Love this hat!
I love this beanie pattern. It is an easy pattern with enough diversity to make it fun. I have made 3 of them as gifts,, but the next one in the Aurora hand tied yarn in for me!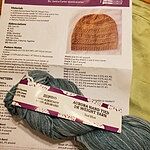 On Knit Stitch Sampler Hat Knitting Kit
Lisa
Verified Reviewer
What is a
Verified Reviewer
A Verified Reviewer is a shopper who has confirmed an email address, or connected a social network with Yotpo, providing an added level of transparency and trust.
Q: Am I missing something? 2 Questions -
1) How many stitches is casted on?
2) Also where in the instructions are the stitch markers to be used?
Thank You!
A: I'm very sorry about the error in this pattern!
I spoke to our fiber artist Julia, and to start this pattern you cast on 84! 😄