4.9 star rating
4.9
48 Reviews
Always high quality and beautiful
Review by Andrea P. on 18 Jun 2020
review stating Always high quality and beautiful
Always high quality and beautiful yarn, have not been disappointed yet😊
Samples were great!
Review by Terrie W. on 24 Jan 2020
review stating Samples were great!
The yarn that came in the sample box was beautiful and so wonderful to work with. It was a awesome surprise.
Beautiful variety! Can't wait to
Review by Mary B. on 22 Jan 2020
review stating Beautiful variety! Can't wait to
Beautiful variety! Can't wait to start knitting!
Revadean Q.
4 star rating
Wonderful hand.
Review by Revadean Q. on 23 Nov 2019
review stating Wonderful hand.
Arrived promptly. Not so fond of the glittery red , white and green. Personal preference but not sure what to make out of it yet. Love the other colors. Soft and smooth. Some shawls coming up.
Beautiful!
Review by Susan V. on 23 Oct 2019
review stating Beautiful!
I love the beautiful colors and texture of this yarn. It's a challenge learning to work with lace weight yarn but I like a challenge it keeps things interesting. Thank you!
Stunning
Review by Tina V. on 16 Aug 2019
review stating Stunning
Beautiful silk yarn in amazing colours!
Favorite Yarn!
Review by Ruth B. on 1 Jul 2019
review stating Favorite Yarn!
DGY laceweight silk is my absolute favorite - this box I bought the sparkle version and wished I had gotten two - adding it to my wish list!
Fabulous yarn
Review by Cathy R. on 27 May 2019
review stating Fabulous yarn
Sampler box of soft, bright, delicate and lovely yarns. I haven't made it all up, yet, but I did make what I call my Frieda Khalo scarf. And I have ordered more of the beautiful plum color. Lays flat, drapes beautifully, warms up cold weather. It won't be difficult to stay cheerful next winter.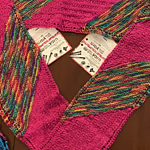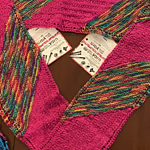 Q: What would you suggest making with the lace weight silk yarn sampler box?
A: Personally, I would love to see a scarf, slouch hat, or some fun socks!
Q: is total of 5 skins of yarns = 300 yards or each one is 300 yards?