5.0 star rating
5.0
5 Reviews
Peacock Skirt
Review by Ellin B. on 19 Jul 2017
review stating Peacock Skirt
The satin feels wonderful! The green is a little bright but rich and elegant. I may add a gauzy layer to diffuse the brightness! Of course, these wrap skirts adapt to all body types, so they fit my rounded physique just as well as they do my slender daughter!
Wooden bowl for yarn
Review by Sharon D. on 29 Jun 2017
review stating Wooden bowl for yarn
I love it, no more away yarn balls. I do some knitting at work on my lunch break and even received a compliment on the bowl. I informed my colleague where she could get one.
Skirts, skirts, skirts and more skirts...
Review by Karen on 2 Mar 2017
review stating Skirts, skirts, skirts and more skirts...
Well, I just have to say that I love all the skirts I have purchased from Darn Good Yarn. Even as I write this I am happily anticipating/looking forward to my most recent order's arrival. It's like Christmas or my Birthday anytime any of my orders have arrived. I find myself resorting to the giddiness of an adolescent. My most recent order is almost here. I have been keeping up with its tracking. I couldn't resist taking advantage of the buy two get three of the sari silk skirts. They have been my favorite item. Although I did purchase a green satin number like that of a paisley peacock design that's ankle length on me. I love it too. I personally tend to be drawn to jewel tones and shiny/sparkly. I love that the material is relatively recycled/reclaimed. I love that it's not just coming out of some major factory or sweat shop. I love that it provides a type of work and income to women in India/Pakistan. There's just something exotic about the material. More than the usual softness to the touch and just feeling good against the skin. I love the versatility how they can be worn. My longest length ones can easily be turned into a dress on me. The shorter length ones I can transform into a top as well as wear as a skirt. They are truly reversible. Each one has been unique. I can tell the kind of work that went into them. My grandmother used to make clothes for my sister and I. I was no stranger going to fabric and craft stores. These saris partly remind me of that. I have a multitude of colors in my collection. I've received countless compliments on them anytime I've worn them out and about. They hold up well in most climates (hot or cold). Mine have also washed well. That's to say they have held their colors and integrity. If you are in the market for something unique, standing for a greater cause and effort of sustainability as well as attention grabbing and feel good, these would be the skirts for you. It's a great deal for what they are. They are what I like to splurge on for myself personally.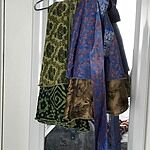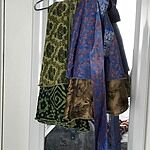 Beautiful skirts
Review by Linda M. on 17 Nov 2016
review stating Beautiful skirts
Love my new skirts. They are beautiful and comfortable.
Comments by Store Owner on Review by Linda M. on 17 Nov 2016
Beautiful colors and great silky
Review by Erin S. on 6 Nov 2016
review stating Beautiful colors and great silky
Beautiful colors and great silky feel
Comments by Store Owner on Review by Erin S. on 6 Nov 2016
Yes, that silky feel is amazing!
Q: Please let me me know when you have these peacock skirts in XL. They are beautiful. So fun!
A: Hi Lee! We agree! They are gorgeous. We offer them in a "one size fits all" but the waist goes up to 36"
Q: How do you secure the skirt? I wear an XL in pants. Will this fit me?
Q: Hi,

Does the peacock skirt have the ties like your other skirts? I'm asking because I don't see them but you posted the link that refers to the other skirts? Is this skirt silk? Satin is like lace its a finish and look not a material. Is this silk satin or polyester satin? While I'm here :-) the 10 skirt grab bay can you mix sizes in that? Also in the 10 skirt one would I be allowed any colour input?

Thank you! I love the skirts I have previously bought from you.
A: Hey Lorena! Our peacock skirts are silk and they do have ties like the other skirts!