4.7 star rating
4.7
12 Reviews
Love it!
Review by Brena A. on 31 May 2020
review stating Love it!
I got the bright, golden yellow, and I used it to make a Dandelion hat (with some silk green yarn from DGY).
Because it is recycled silk, I did run into a few patches in the yarn that weren't totally silky and pleasant. It comes in a skein, so you catch those when you wind it into a ball and just plan around them when you're designing your project. For my project, it worked out perfectly. The sections that touch my forehead are wonderfully soft and I put the weird bits at the pointy top.
This yarn has lots of character! If you're looking for that, then this yarn is great. If you're looking for a perfectly consistent yarn, other options will work better for your project. I love the personality this yarn has!
Amazing!
Review by Sandaaker on 17 May 2020
review stating Amazing!
Amazing colors and texture! So rich!
Inconsistent
Review by Dara H. on 1 May 2020
review stating Inconsistent
As I was going through the skein I came across sections that were holding on by a literal thread. Usually these sections were followed by bunched up sections, which I usually like, but not at the expense of the yarns integrity.
Comments by Store Owner on Review by Dara H. on 1 May 2020
Thank you so much for your valuable feedback. We look forward to avoid these mistakes in the future and to provide our customers with the best quality of yarns.
So soft!!!!
Review by Jessica C. on 5 Aug 2019
review stating So soft!!!!
Softest yarn Ive had! With just a touch of fuzzyness, this yarn works up soft, silky, and beautifully.
Lovely yarn
Review by Ashley M. on 18 Mar 2019
review stating Lovely yarn
Gumball was wound a bit too tight but otherwise lovely to work with. It's like a lighter weight version of Lux Adventure and gives phenomenal texture to basic stitch work. As always, the gentle fluctuation in rich color makes the project unique. I made a cowl for sister-in-law with it and appreciate how heavy it feels compared to other yarns if the same weight category.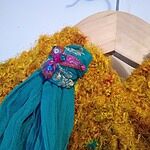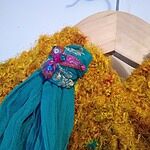 My favorite sport weight yarn!
Review by Laura Y. on 27 Nov 2018
review stating My favorite sport weight yarn!
I love this yarn. The color is so rich and soooo pretty.
Gumball Yarn
Review by Lisa M. on 30 Jan 2017
review stating Gumball Yarn
A rainbow full of gumball colors—and so soft! I think I'll make a soft and yummy cowl :)
This recycled silk pleases my eyes and fingers!
Review by Donna B. on 4 Oct 2016
review stating This recycled silk pleases my eyes and fingers!
Nothing absorbs rich color like silk. These fibers make my weaving pieces glow.
Comments by Store Owner on Review by Donna B. on 4 Oct 2016