4.0 star rating
4.0
7 Reviews
good yarn
Review by Kayla R. on 17 Jan 2020
review stating good yarn
I was expecting this to be much more soft due to the blend of silk and cashmere but it has more of a wool texture. but still a good yarn that will be fun to dye.
Lovely
Review by Barbara M. on 2 Dec 2019
review stating Lovely
Snowy white and lovely, this will become something special!
Wynnette D.
5 star rating
So happy with my Catalina yarn!
Review by Wynnette D. on 2 Nov 2019
review stating So happy with my Catalina yarn!
I wasn't sure what to expect but this yarn has such a nice sheen, soft, and yet very strong! Thank you very much!
AMAZING
Review by Briana B. on 25 Oct 2019
review stating AMAZING
Sooo soft and nice. I haven't used this one yet but it is so nice I have to find just the perfect project for it. I'm excited I finally bought this one.
Malgorzata K.
2 star rating
not what I expected
Review by Malgorzata K. on 21 Oct 2019
review stating not what I expected
I expected yarn withe the content of silk, cashmere and some other fiber, but these are pieces of different yarns and the thickness of the pieces in the skein is different. I separated the types of the yarns and made some pieces double. I will use it with another white yarn as embellishments.
Unique!
Review by Angela B. on 16 Oct 2019
review stating Unique!
I love that this yarn is so unique! It wasn't what I was expecting and I accidentally ended up untying all of the yarn pieces and balled them up into separate balls. I'm planning to use each piece in amigurumi dolls. I'd love to see an example of how this yarn is meant to be worked with normally. The bracelet is beautiful.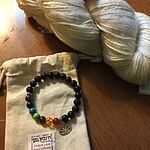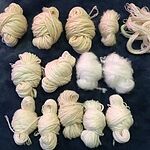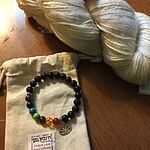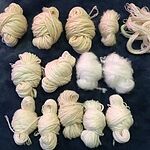 Cashmere, really?
Review by Adrian L. on 11 Oct 2019
review stating Cashmere, really?
I was disappointed that the yarn felt more like cotton than cashmere. Also, the color was too yellow.
Q: Not being familiar with hand-tied yarn, I wondered if you could share an image of a strand of the yarn. It sounds interesting and I'd like to know what it is.

I think I tried asking this question before, but I don't see that it was answered. Hope it works this time.
A: Hi there!
There's not a way for me to add pictures to my responses, but if you email in and ask for a more detailed image, I'd be more than happy to send it to you!
-Kate