4.9 star rating
4.9
12 Reviews
Jennifer V.
5 star rating
Gorgeous ribbon yarn! Easy project.
Review by Jennifer V. on 23 Mar 2020
review stating Gorgeous ribbon yarn! Easy project.
I can't get over how beautiful the fabrics are in the ribbon yarn. They worked up into a basket I love showing off (I keep one of my WIPs inside). Be prepared to spend some time trimming the loose threads off the sides of some of the fabric strips if you want the nice clean ribbon edges you see in the photo -- but it is worth it! It's a simple enough project, but if you do need help you'll hear back from customer service right away. I plan to make more of these.
Pretty simple project
Review by Whitney P. on 8 Oct 2019
review stating Pretty simple project
Pretty simple project
Michelle A.
5 star rating
Gorgeous!
Review by Michelle A. on 6 Aug 2019
review stating Gorgeous!
I have not made the basket yet but I did receive the kit which included two Hanks of absolutely gorgeous yarn and instructions which seem easy enough. You do have to purchase your own rope, but it's cheap at a hardware store. I'm super excited to see how it will turn out!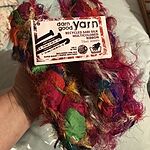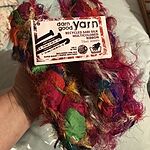 Love everything!
Review by Rhonda G. on 2 Jul 2019
review stating Love everything!
Beautiful basket
Always the best from DGY
Review by Briana B. on 20 Jun 2019
review stating Always the best from DGY
The yarn is so nice and a pretty easy pattern! Loving it!
Silk Ribbon
Review by Sherri T. on 11 Jun 2019
review stating Silk Ribbon
I love the colors of the silk ribbon and cannot wait to purchase the rope to finish the product.
Lovely yarn
Review by Kay C. on 13 May 2019
review stating Lovely yarn
I love the colors. I have not made it yet
Beautiful Rope Basket
Review by Patricia on 22 Apr 2019
review stating Beautiful Rope Basket
Well worth every penny. I don't do crafts I don't have the patience but I thought I would do this project. When I receive the yarn it was beautiful. l I went out and purchased rope and started doing my basket. 21 feet of rope purchased 6 ft at a time. VERY in expensive. I picked my form of a bowl ( large colander ) and my glue gun. I started to notice as I was wrapping the yarn around the rope and then started forming the the bowl that the glue was showing so I had some colored glue sticks and started using those. My grandson help me which was a good thing. We didn't follow instructions exactly to a T. All we did was winde the yarn single instead of doubling the rope because I was getting so anxious to complete this project and to see it completed. We're happy with the outcome it may not be perfect but we are proud of it! We are about to make another This project I must say was fun and relaxing.
Comments by Store Owner on Review by Patricia on 22 Apr 2019
Thank you! I appreciate your feedback! :)
-Claudia
Q: What is the completed size of the basket and is it stiff or is it bendable?
A: The size varies depending on which type of bowl you use in your mold :)
Q: Is there a video we can watch that shows someone doing this project? I'm trying to figure out if it might be too hard for me.
Q: Is the pattern available for purchase without the rest of the kit?
A: Hi there!

Unfortunately, we do not sell the pattern only for this KIT.
Q: What size and how much rope does this need? I want my daughter to be able to start this as soon as she gets it.
A: Great question! The width of the rope and the size of the bowl will depend on the items you choose. If you get a wider rope, you'll need less length than you would with a thinner rope. Also, depending on the size of the bowl you'll need a specific length. I recommend finding a rope you enjoy at the local hardware store, and just getting a few yards to ensure you can wrap the full bowl. It's super easy and cost effective, and makes an amazing present or addition to your home decor!
- Phil
Q: I can not find the instructions that came with this kit. Additionally, I can not find the instructions for the market tote I purchased at the same time in JULY 2019. Can I purchase them?
A: Hi there!
I'm sorry to hear that you can't find these patterns, please email us at
info@darngoodyarn.com
and we'd be happy to help you out