5.0 star rating
5.0
3 Reviews
Makes me feel like a kid again
Review by Corrine W. on 23 Feb 2020
review stating Makes me feel like a kid again
The first I ever really learned how to do other than of course painting and drawing was cross stitch in third grade. I got this little kid kind of breathe life back into that time in my life and I had such a fun time doing it
Cross stitch kit
Review by Chantel H. on 8 Jan 2018
review stating Cross stitch kit
I love this kit, it has great colors. I haven't done cross stitch in decades. I'm having so much fun with it! Thanks!! :)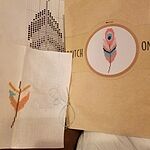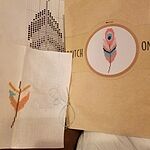 Comments by Store Owner on Review by Chantel H. on 8 Jan 2018
Thank you and have fun :)
Yarn bowl
Review by Nancy on 12 Mar 2017
review stating Yarn bowl
Love the seconds yarn bowl and ends..showed it to friends. It always gets noticed in my living room where I knit. Many compliments. Would be nice to have one size just a bit larger. Do you carry needlepoint kits?
Comments by Store Owner on Review by Nancy on 12 Mar 2017
Q: Does the kit come with the thread used to make it, or do I have to buy my own thread for it?
A: Hi Kai,

It comes with the thread!