4.8 star rating
4.8
56 Reviews
This pattern is so much
Review by Ronda P. on 17 Jun 2020
review stating This pattern is so much
This pattern is so much fun! It knits up so fast!
Loved it!
Review by Dania S. on 27 Apr 2020
review stating Loved it!
It was a great price, fun project, and loved the yarn it came with.
Fun to make, but the ribbon is really stringy!
Review by Stacy F. on 20 Aug 2019
review stating Fun to make, but the ribbon is really stringy!
I recently made the Arm Knit scarf from chiffon ribbon. It was a lot of fun to make and super fast to knit up. The only bad part was that the chiffon ribbon was very stringy and it took a while to roll into balls. I kept having to use scissors to cut some of the strings while unraveling the hanks so that I could keep going. Otherwise, it was fun to make and it's HUGE. I can't wait for the weather to cool down enough to wear it.
Stunning fabrics!
Review by Karen s. on 18 Jun 2019
review stating Stunning fabrics!
I love everything I've gotten so far from DGY! Such a treat and arm knitting isn't hard to do, even for a total noob like me!
Arm knitted scarf
Review by Claudia R. on 29 Mar 2019
review stating Arm knitted scarf
Arm kniting this scarf was one of the most fun thing I have done in a while. The only this that is disappointing is that, once you get how to do it, it's done so fast! I am completely adicted and want to make many more!
Super simple
Review by Dee T. on 27 Mar 2019
review stating Super simple
Super simple, yet lovely project from this pattern and yarn!
Love it
Review by Buffie S. on 27 Feb 2019
review stating Love it
I love everything about darn good yarn
Arm scarf
Review by Kim D. on 26 Feb 2019
review stating Arm scarf
Loving the light and airy feel of this scarf but don't let that fool you because this is definitely a warm scarf depending on how you wear it. I am constantly stopped and asked where I bought it. So if your thinking about buying it get ready for the complements.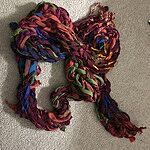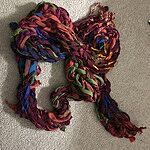 Q: How long is the finished scarf? Thanks!
A: It depends on how tight you arm knit. It can be made to your desired length.
Q: I got the pattern for this and can't wait to get some yarn. But you're out of all the colors I'd be interested. Do you foresee getting other colors any time soon? Thank you!
A: Yes! We will re-stock them soon. Just make sure to put in your email on the product list so you will be notified.