4.6 star rating
4.6
10 Reviews
Awesome banana fiber
Review by Teresa on 2 Dec 2019
review stating Awesome banana fiber
Still working on Christmas presents.
I will knit the cowl after Christmas.
Very pretty fiber.
Loved how this unique yarn
Review by Julie M. on 14 Dec 2018
review stating Loved how this unique yarn
Loved how this unique yarn worked up
Awesome!
Review by Emily D. on 4 Dec 2018
review stating Awesome!
I love this kit! The banana yarn is so soft and almost cool to the touch, and it knits up an amazing texture! Since ordering this kit I have been hooked on Darn Good Yarn's banana fiber yarn. The button that comes with the kit is also super adorable.
Great Kit!
Review by Cindy B. on 6 Sep 2018
review stating Great Kit!
Inside the kit, when the mail arrived, I received TWO skeins of beautiful kaleidoscope banana fiber yarn!
To be honest, I didn't read the website (for the kit) close enough. I bought the kit with the thought I would only receive one skein. So I was pleasantly surprised to open the box to two skeins of this amazing yarn!
Also, in the kit, one reindeer button that is so adorable!!!
Lastly, two pieces of paper: Printed out knit pattern and printed out crochet pattern. But please note you also get emailed them as well. So it is really nice that you receive the electronic versions of them as well!
Overall, this is a fantastic deal (the kit). I'm currently doing the knit version of the project and really enjoying it. My biggest suggestion is to go read the description of the banana fiber yarn first before starting. It won't turn you off from wanting to buy this but it'll help you realize this yarn is a bit more unique. And please know that all the photos on this website do NOT do the yarn justice! It is so brilliantly colored and so pretty! And so soft. I really was surprised by how pretty and soft it was when it arrived.
Very distinctive!
Review by Laurel Z. on 9 Feb 2018
review stating Very distinctive!
I haven't gotten around to making the Cowl yet, but I was surprised to see that I have enough yarn to make two of them. I know they will look beautiful and unique when finished.
Banana Fiber kit
Review by Marilyn L. on 2 Feb 2018
review stating Banana Fiber kit
I have not finished the kit yet. So far it is beautiful. I am having a great time using the yak yarn I purchased. It is great looking and toasty warm. Love the yaks! ! !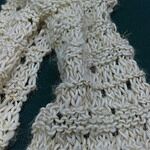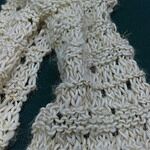 Easy Banana Fiber Cowl kit
Review by Karen G. on 19 Jan 2018
review stating Easy Banana Fiber Cowl kit
Good job!! Darn Good Yarn!!Love my banana fiber Cowl kit!!Yarn is beautiful!!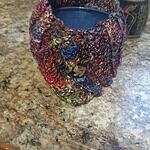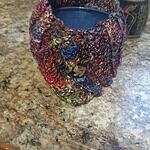 Comments by Store Owner on Review by Karen G. on 19 Jan 2018
Awesome turn out Karen! Thanks for sharing :)
Banana fiber?
Review by Robin H. on 18 Jan 2018
review stating Banana fiber?
This is beautiful yarn!