4.9 star rating
4.9
8 Reviews
Bit pricey but pretty and functional
Review by Mia B. on 20 Jun 2020
review stating Bit pricey but pretty and functional
Received an orange scrunchie, not my favorite color but still love it because of the unique pattern. Easy to use, feels comfortable on my wrist and I can put my hair up comfortably as well.
I would buy more if it weren't so expensive! I bought this on the memorial day sale since I couldn't justify spending more than 6$ on one scrunchie when I know they must be pretty cheap to make (relative to other items anyway). If there's a sale to buy in a bundle for a decent price I'll for sure buy more! Would love to have 5 or 6 of these in different colors.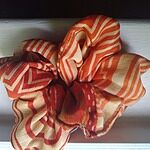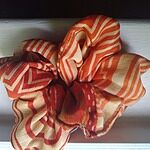 Jennifer H.
5 star rating
It's so soft and I
Review by Jennifer H. on 10 Jun 2020
review stating It's so soft and I
It's so soft and I love it~
So cute!
Review by Nicole H. on 21 May 2020
review stating So cute!
My scrunchie is adorable! It's my new favorite. Really pretty colors and a tremendous amount of elasticity. It's the first one I reach for when I'm putting my hair up.
Nice
Review by Holly R. on 13 May 2020
review stating Nice
I gave this to my daughter who collects scrunchies lol
She loves it!
The Best of DGY
Review by Brenda H. on 19 Apr 2020
review stating The Best of DGY
The Upcycled Sari Scrunchie with vibrant and subtle colors colorful textures. -- Thank you DYG!
So fun!!!
Review by Lisa M. on 28 Jul 2019
review stating So fun!!!
Love my new silk scrunchies!!! They're so colorful and fun, and the silk just slides on and off with no hair breakage. And they go with everything—have to buy more!!!
Awesome I am a scrunchie lover!!!!
Review by Desiree M. on 24 May 2019
review stating Awesome I am a scrunchie lover!!!!
(I even crochet my own) I love how silky, formal, and dressy it looks:) I have longer hair and do try not to damage it by not using bad hairties with metal in them and whatnot!!!
Great gifts
Review by Susan K. on 21 May 2019
review stating Great gifts
Have may young ladies with longer hair that use scrunchies and ties for their hair.
The trend here for the teens, pre-teens to wear them for bracelets.
myself i love the width if the scrunchies, but maybe make some that are a bit smaller in width of the material.