4.6 star rating
4.6
36 Reviews
I love my DYG skirts!
Review by Terry M. on 7 Jun 2020
review stating I love my DYG skirts!
I love my DYG skirts! Always so beautiful and flattering!
Better than I could have dreamed!
Review by Karen L. on 6 Jun 2020
review stating Better than I could have dreamed!
I received my order of three ankle length skirts today. I'm 5'5" and they fell just above my ankles. The colors and fabrics are just amazing! I didn't see anywhere in the description to suggest it, but the way these are sewn, the skirt can definitely be reversed and you have a totally different skirt. Bonus! The sizing is generous. It's almost too big for me. I may need to sew more holes in the waistband to make it smaller. Today was quite warm. I wore the new skirt and it was cool and breezy feeling. Thanks again!
Mini shirts
Review by Donna C. on 6 Apr 2020
review stating Mini shirts
I really love all your skirts. I have 18 of your skirts and I can't wait to wear them out and show them off to my friends.
Colors and luxury
Review by Dayna S. on 7 Jan 2020
review stating Colors and luxury
After years of looking and wanting I finally ordered skirts. Best decision ever! The colors selected for me are all perfect there is not one skirt I don't absolutely love! My kids all love them too!!!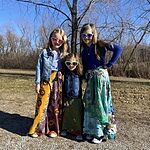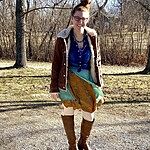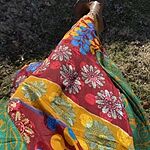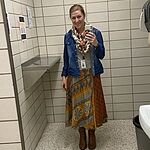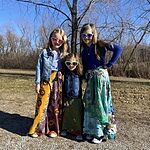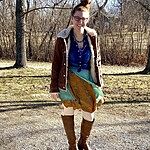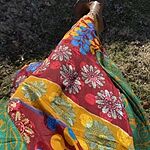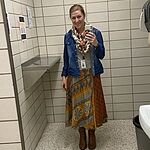 Darn good skirts!
Review by Noorain N. on 28 Oct 2019
review stating Darn good skirts!
I absolutely love my skirts, they are so versatile and can be paired with so many pieces from my wardrobe! I'm happy to have shopped from Darn Good Yarn, such a great mission of empowering women in need!
Patricia l.
5 star rating
I love the beautiful skirt
Review by Patricia l. on 7 Sep 2019
review stating I love the beautiful skirt
I love the beautiful skirt that Darn Good Yarn picked out for me. The colors and design are exactly what I requested and the skirt will be a great addition to my Fall wardrobe.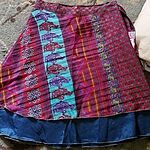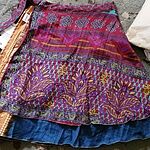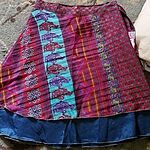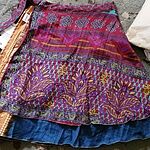 Colors
Review by Lorraine on 7 Sep 2019
review stating Colors
The skirt is beautiful but I'll never wear it because it's mostly navy and yellow, and I don't wear those colors.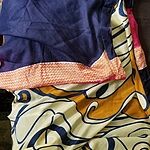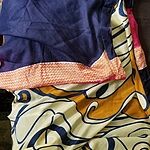 Wrap Skirts for the WIN!
Review by Drea W. on 28 Aug 2019
review stating Wrap Skirts for the WIN!
These skirts are so light and beautiful! They're easy to throw on with a tank top for simple days or dress up with the right blouse. I can't wait for fall because I have a pair of boots and the cutest sweater that are just going to rock! I thought leggings were comfortable but these skirts are next level!!
Q: I am 5'3" and found that the skirts I previously purchased using the Misses size are a bit long. Would the Junior size be shorter? Just wondering how to submit my order. Thank you.
A: I am not sure where you want your skirts to end but the junior skirts are around 20".
Q: My waist is 40 inches-what size sari wrap skirt would I need?
A: Hey Carol! The waist on the Regular is 48" and the waist on the XL is 58". I would suggest the XL so you have enough extra to cover up!
Q: What is the waist length for regular and XL sizes? and length for ankle length skirts?
A: hi! REGULAR is about 48-50" XL is 58-60" while ankle is around 32-34" :)
Q: I'm 5'6 and wear a 12-14. Would the reg or large size skirt be a better fit?
A: Hi there!

Thanks for reaching out. Regarding with our Kids/Junior is 38-40, Regular is about 48-50 and XL is 58-60 waist. And for the Knee length is around 19-21 and ankle is 32-34.
Q: I want a shorter one but I want it to fall at knee length. I am 5' 5"". Is that where it will be? I don't want it too short.
Also I can't see where you can describe the colors that you like.
A: Hi there!

If you check the skirt page, a size guide is included at the bottom! I hope that helps! You can also add color requests upon checkout!

Claudia
Q: Are the skirts available in various fabrics? I love them, but am deathly allergic to silk. Thanks.
A: Unfortunately, our Sari Wrap Skirts are predominantly made out of recycled silk saris and other similar fabrics.