5.0 star rating
5.0
8 Reviews
Will buy more
Review by Cindy on 19 May 2020
review stating Will buy more
Bought two of these bags for Christmas bags. Had to keep one for myself as loved it. My daughter loves her's as well. Will order more when available
Great bag!
Review by Marla L. on 4 Feb 2020
review stating Great bag!
This bag is unique! The recycled rubber is awesome! It has become my go to bag for almost everything!
Cute cozy bag
Review by Regina G. on 15 Sep 2019
review stating Cute cozy bag
The purse isn't as big as it looks in the picture (the model must be extra petite!). I am a petite woman myself and found this to be a nice regular sized bag. It is cozy to snuggle underneath my arms-- this is a perk as my last purse from JCPenny's had this jagged pokey zipper. I read a review that the straps might have been reversed accidentally on hers but mine also came with the straps having the pattern turned inwards and the rubber on the outside. It is a lovely comfortable bag that isn't ostentatious, but fun to bring wherever I go. Love it!
Mackenzie Tote Bag
Review by Lindsay C. on 1 May 2019
review stating Mackenzie Tote Bag
I absolutely love this bag! It is well-made, the colors are lovely, and the size allows for everything I want to carry with me.
Loving my bag
Review by Kim D. on 19 Feb 2019
review stating Loving my bag
I absolutely love this bag. Just enough space for all my things, I am constantly complimented on the fabric colors which go with all my outfits and the straps always seem to be a topic of conversation as they are made from recycled bicycle tubes.
Kathleen W.
5 star rating
Gorgeous and roomy.
Review by Kathleen W. on 9 Sep 2018
review stating Gorgeous and roomy.
I bought this along with the Rachel drawstring crossbody bag. Plan on using them for traveling. Holds quite a bit of items. Please make one in a Small duffle/makeup bag size.
Bigger than it looks
Review by Hope B. on 28 Oct 2017
review stating Bigger than it looks
I love this bag. I struggle with finding a bag that fits all the things I carry around and keeps it all in place. This bag does just that and it's gorgeous.
*Love* this bag!
Review by Kate S. on 16 Aug 2017
review stating *Love* this bag!
The quality of stitching and fabric is amazing! It is large, and has a good-sized pocket inside and two zippered pockets outside. My only slight complaint is that it seems like the straps may be on backwards. They lay flat on my shoulder with the stitched fabric side against my shoulder and the sturdy leather side facing out. I usually flip them as I grab the bag and raise it to my shoulder, so that the leather side is against my shoulder. I don't want to wear down the beautiful stitching on the fabric side! And I think the fabric is much more beautiful to show than the leather. Despite this minor inconvenience, I would still purchase this bag again.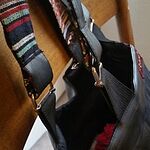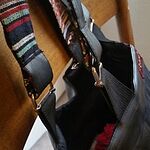 Q: Does this bag have interior pockets, and is there some sort of closure for the top of the bag?
A: Hello!

This one does not have any interior pockets but sure it does have on top. You may check it in your youtube post- Darn Good Yarn Bag so you will see how it looks like! :)